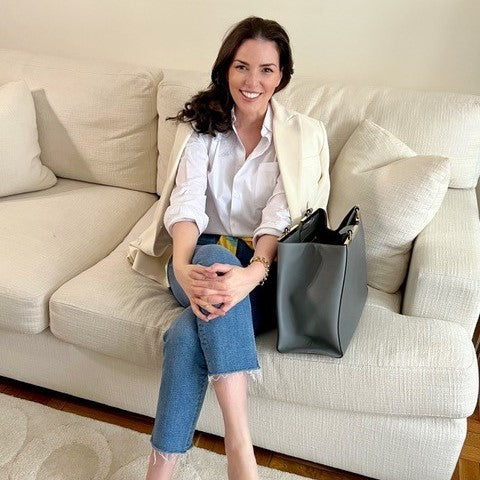 Ann Caruso is a New York based celebrity fashion stylist, consultant and tastemaker. Having loved fashion since she was 7 years old, her first job out of Business School was at Ralph Lauren, before moving to a role at American Vogue. Upon going freelance, Ann began styling celebrities including the likes of Sissy Spacek, Taraji P. Henson and Oprah. Follow @ann_caruso.
Tell us a little about you.
I am an ex Vogue, Tatler, and Harpers Bazaar Editor. I am known for my work styling celebrities and I am working with lots of partnerships with fashion, beauty, and wellness brands at the moment.
How do you start your day?
I start my day with fresh ginger and lemon water or apple cider vinegar and water and then move into matcha or coffee after. 
What is your fashion philosophy?
My fashion philosophy has changed over the years. Long ago it was about how you looked and not how it felt. Now, it is about being more comfortable. What items on my body make me feel good, supported, confident, and strong.
Can you share your top tip?
My top tip, if you are not happy, it shows. So, things like staying grateful, and listening to music that makes us happy, and resting affect our body, mind, and soul which I think affects our skin, how bright our eyes are, and how big our smile is. All the things that help make us look and feel our best.
Who inspires you?
My mother inspires me on a daily basis. Her zest for life at 93 is inspiring. She wakes up every day happy, exercises, and has her routines which makes me think that there is something to having a routine.
How do you unwind?
It depends on what is going on. Sometimes it is talking to a friend, a walk-in nature, taking a bath stretching, and doing some light yoga. I love escaping by watching a film or a series.
If you could visit anywhere in the world tomorrow, where would it be?
I love to travel so that is tough! Greece, Italy, India anywhere where there are beautiful views, water, sun, history, and some spirituality! Oh, a spa and some interesting shopping would be great, too!
Can you tell us something you discovered recently?
I finally got on the bandwagon and started reading something from the author Amor Towels. I am in the middle of The Lincoln Highway. It is so beautifully written and very special.
What is the best part of your job?
Working with new products and brands in the fashion, beauty, and wellness space. Some products that I receive haven't even hit the States, so I love knowing what is coming up even before it hits the stores and then seeing them grow.
Which shoes do you love this season?
I love a simple flat or kitten heel that I can wear with jeans, skinny pants and dresses.  The Cornelia Pearl and any of his shoes with the crystals are so special. And, another good classic is a great black boot, like the Nectar or Odessa Crystal.
Shop Ann's style
13 June 2022
---