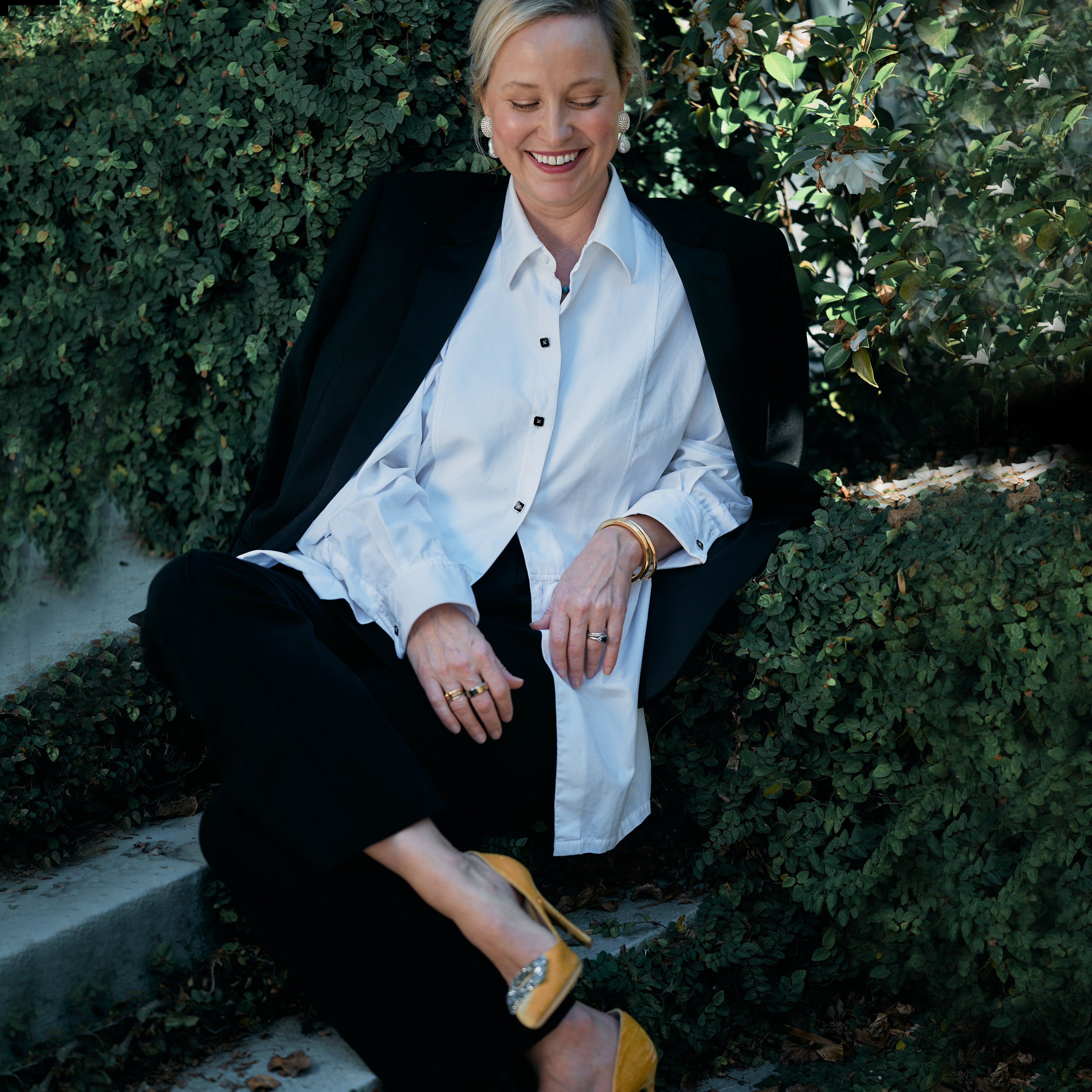 In My Shoes: Laura Vinroot Poole
Laura Vinroot Poole is the owner of internationally-renowned independent boutique, Capitol, based in Charlotte, North Carolina with a location in the Brentwood Country Mart in Los Angeles, California. She is also the host of the acclaimed podcast, What We Wore, which includes an episode featuring Rupert Sanderson. Follow @lauravinroot and @shopcapitol.
Tell us a little about you.
I am a wife and a mother and an entrepreneur of 25 years and recently, a breast cancer survivor. I turned 50 this year and it has really changed my perspective on who I am and why I'm here.
How do you start your day?
I start the day with a run, a meditation, and an adaptogenic smoothie that my husband says is the most dreadful thing he's ever tasted. I've recently added a knob of ginger to it and I think it's improved only slightly.
What is your fashion philosophy?
I've always thought that the most attractive people are the most confident people, so I work really hard to feel comfortable in my clothes. I also try to look like myself…the closer you are to the true essence of who you are and what you love, the more light you project into the world.
Can you share a styling trick with us?
My top fashion tip is to take great care of your skin. No amount of "intervention" can rival just basic, consistent and thoughtful skincare. I've been a Biologique Recherche loyalist for years and years.
Who inspires you?
My 18 year-old daughter, Fidelia…she's strong and open and fearless and has her entire life in front of her.
How do you unwind?
I travel a ton for work and I used to think that a massage and a glass of wine would unravel me, but I've found as I've gotten older that something active like a run or a swim (sans wine) wears me out and makes me much more relaxed.
If you could visit anywhere in the world tomorrow, where would it be?
I would never pass up another trip to India…the people, the craftsmanship, the food, the colors, the madness…I could spend a lifetime in India and never tire of it.
Can you tell us something you discovered recently?
I discovered that your greatest fear could become your biggest triumph. I have deep family roots of breast cancer and have feared being diagnosed my entire life. I was diagnosed in 2021 and spent a better part of the last year being treated and healing and it oddly ended up being one of the best years of my life. My appreciation and love of my life and my family and my friends and my career are more clear than they have ever been and I could not be more appreciative of the experience.
What is the best part of your job?
I love so many parts of my job…the people, the collaboration, the problem-solving, the abounding beauty, but I must say the editing part of the buying process really clicks perfectly with my brain. I'm in heaven when I am narrowing down from a field of 100 pairs of shoes and 40 fabric swatches and 5 heel heights to the very best few. It's some weird left-brain/right-brain stimulation that thrills me to no end!
Which shoes do you love this season?
The saffron velvet sparkle—pebble heel! They are truly one of the most comfortable heels in my closet! We just photographed them à la Irving Penn for our second annual Dream Book.
What We Wore, Podcast Episode: The Art of Independent Shoe Making (featuring Rupert Sanderson)
Shop Laura's Style
9 January 2023
---