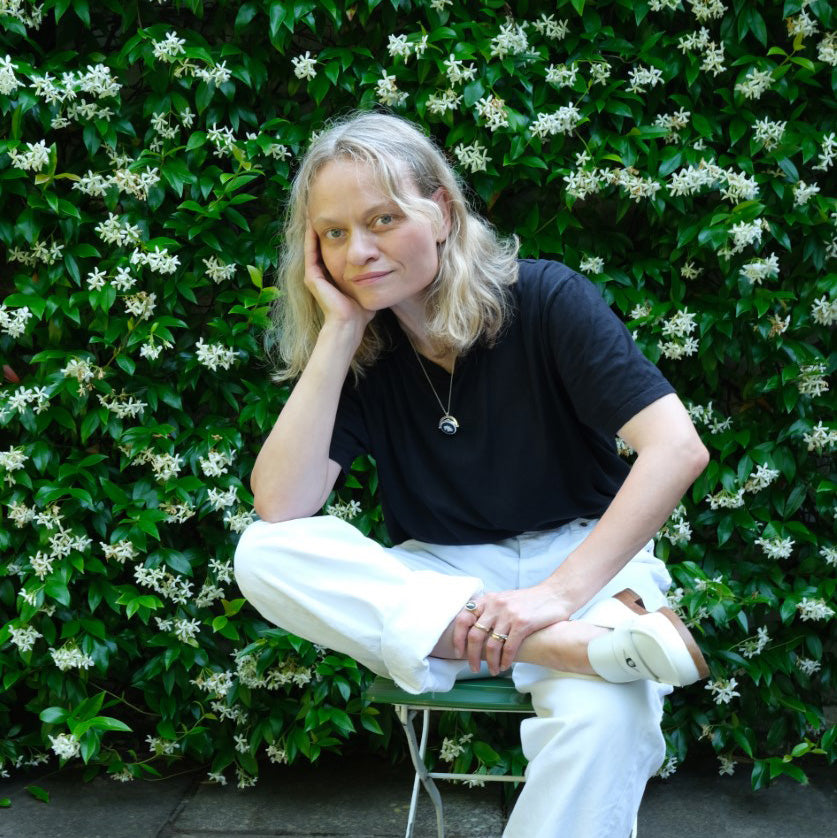 In My Shoes: Leonie Branston
Leonie Branston is a London based fashion designer and founder of Ferian. She began her career at Alexander McQueen and Hussein Chalayan before moving to New York to design for Calvin Klein and later J.Crew. Returning to London to design for luxury British brands, Leonie launched Ferian, creating timeless bags and jewellery. Discover Ferian and follow @ferianengland
Tell us a little about you.
I'm Leonie, founder of Ferian an English jewellery and bag brand and fashion consultant.  I've designed clothes for McQueen, J.Crew, Calvin Klein in New York and now consult for British luxury brands in tandem to designing and developing Ferian.  I live in North London with my husband, daughter and son. 
How do you start your day?
I wake up about 5.30 and listen to 'Farming today' in bed – I find it a good backdrop to measure the trials of my day by.  The 'starting gun' fires at 7am then it's a relay race with my husband Henry to prep the children's pack lunches and the ever-failing attempt to get 'ship shape' for the day. 
What is your fashion philosophy?
Trust your instinct. Invest in quality, rarity, and adaptable, timeless pieces.
Can you share a styling tip with us?
Reframe your existing wardrobe with accessories: shoes, bags and jewellery can transform the attitude of old favourites.  Look for something that will have longevity and that you will treasure – whatever the current fashion mood.
What inspires you?
I've always read a lot and the characters, mood and narratives of books often influence my design work.  My favourite book is 'A rebours' which is loosely about the quest for aesthetic satisfaction.  It has wonderful descriptions of my favourite fascinations: acrobats, ships, symbolic and decadent interiors.  Since a child I've collected old things and I like to preserve objects that possess the uniqueness and magic of something that has a history – especially if it is a lost or rare craft.
How do you unwind?
I love rollerskating, iceskating, drinking wine and being gripped by a good book or film.
If you could visit anywhere in the world tomorrow, where would it be?
I'd like to see a true starlit revealed night sky – anywhere.
Can you tell us something you discovered recently?
It's more of a rekindling – I used to figure skate in my teens and loved the combination of athleticism and artistry – during lockdown I've started to roller-skate which gives me the same sensation of ultimate freedom if somewhat downgraded in merit!
What is the best part of your job?
Getting appreciative emails from my customers, working with skilled crafts people and making a small contribution to keeping British crafts alive.
Which shoes do you love this season?
I love a classic and the Mundra loafer ticks all my boxes- chic, beautifully crafted and can be personalised – I've replaced the traditional penny with vintage Wedgwood cameos … plus it's swift to kick on and off – essential transitional shoe to the roller skates!
Shop Leonie's Style
26 August 2021
---