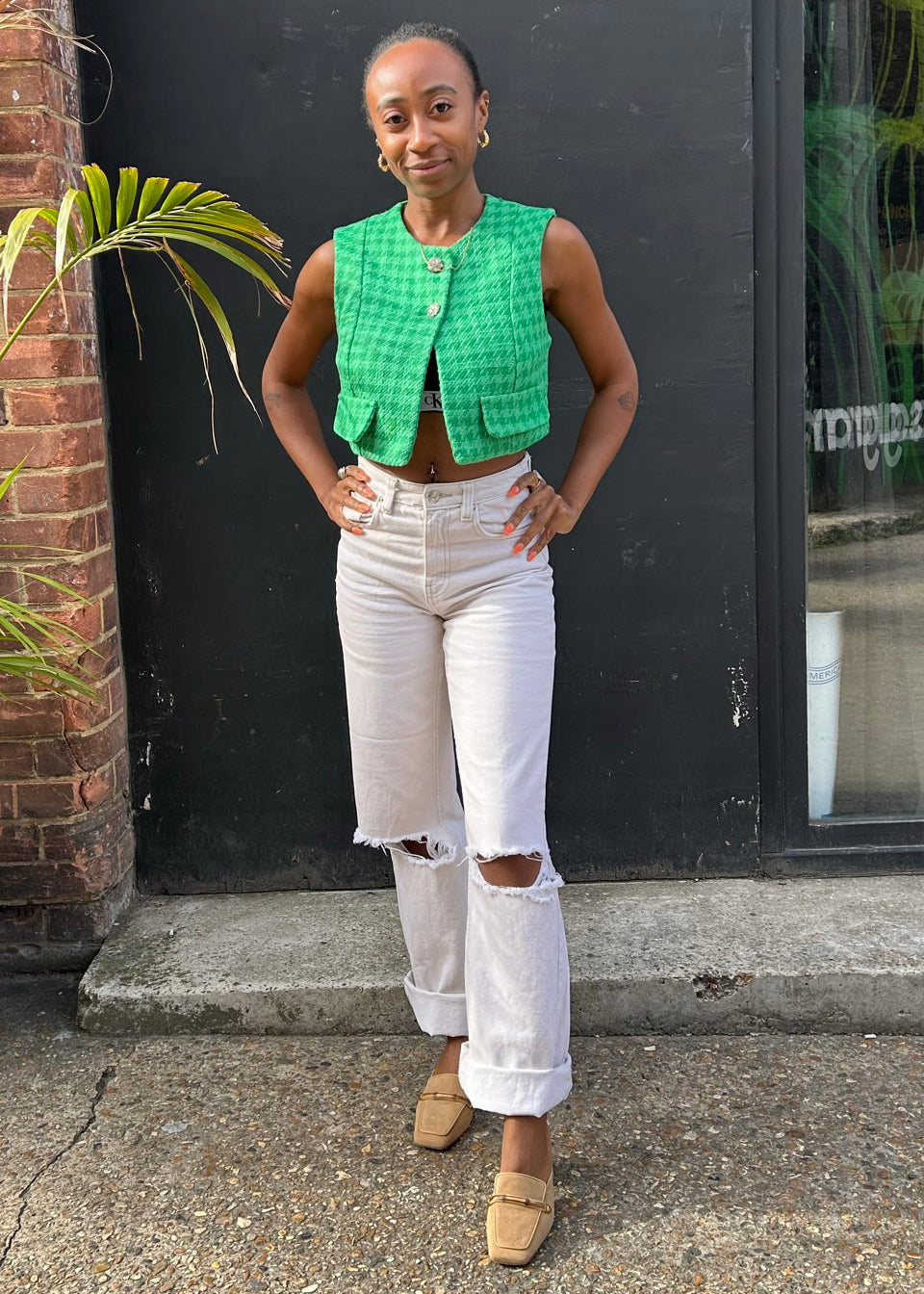 Hailing from south-east London via Bath, NIKS is a DJ and producer, speaker and contemporary trained dancer as well as the founder of the Black Artist Database (B.A.D), formerly known as Black Bandcamp. A versatile vinyl 'digger' and an avid thinker, NIKS' is a powerhouse at the forefront of the electric music industry. Follow @niks_bad
Tell us a little about you.
Hi, my name is NIKS, I'm a DJ, producer, and co-founder of B.A.D of which I A&R our label. I trained as a contemporary dancer for 14 years and am also grade 6 in piano - some random fun facts.
How do you start your day?
With a fresh cold homemade smoothie, writing out my to-do list, and the gym and sauna. Usually, I have a mix pumping through my headphones to complement the mood or vibe of the morning.
What is your fashion philosophy?
Chic, always look chic! As someone who is petite and into fitness, maintaining a chic look is my philosophy finished off with a pair of boots!
Can you share a styling trick with us? OR Can you share your top tip (fashion, life, anything)?
A recent styling trick that I've started to use is tying my ponytail with a silk-printed or patterned neck scarf. It's so simple yet stylish and chic, and really adds a tasteful element to my daily looks.
What / who inspires you?
My team! They inspire me every day and are the people who keep me afloat.
How do you unwind?
I go either go to the sauna and gym, or I listen to NTS or Classic FM
If you could visit anywhere in the world tomorrow, where would it be?
The 2 countries that have been on my ''to visit'' list; are Brazil and Japan, Specifically I'd love to visit Bahia in the northeast of Brazil and Osaka in Japan.
Can you tell us something you discovered recently?
I recently learned that Goldie (the DJ) used to be a B-Boy (I went to an exhibition about street culture and graffiti).
What is the best part of your job?
Travelling to countries and festivals I may never have visited, and meeting/making new friends or travelling with close friends. I also LOVE when I discover an entire discography of a label or artist (old and new) that I never knew about before - it brings me such joy - to then play it out to a new audience or crowd - it's the best feeling!
Which (Rupert Sanderson) shoes do you love this season?
The 3 shoes that I'm really into at the moment are; Naxos Cromato, Misty Cromato and Rapallo - love love love them!
Shop NIKS' Style
1 September 2023
---