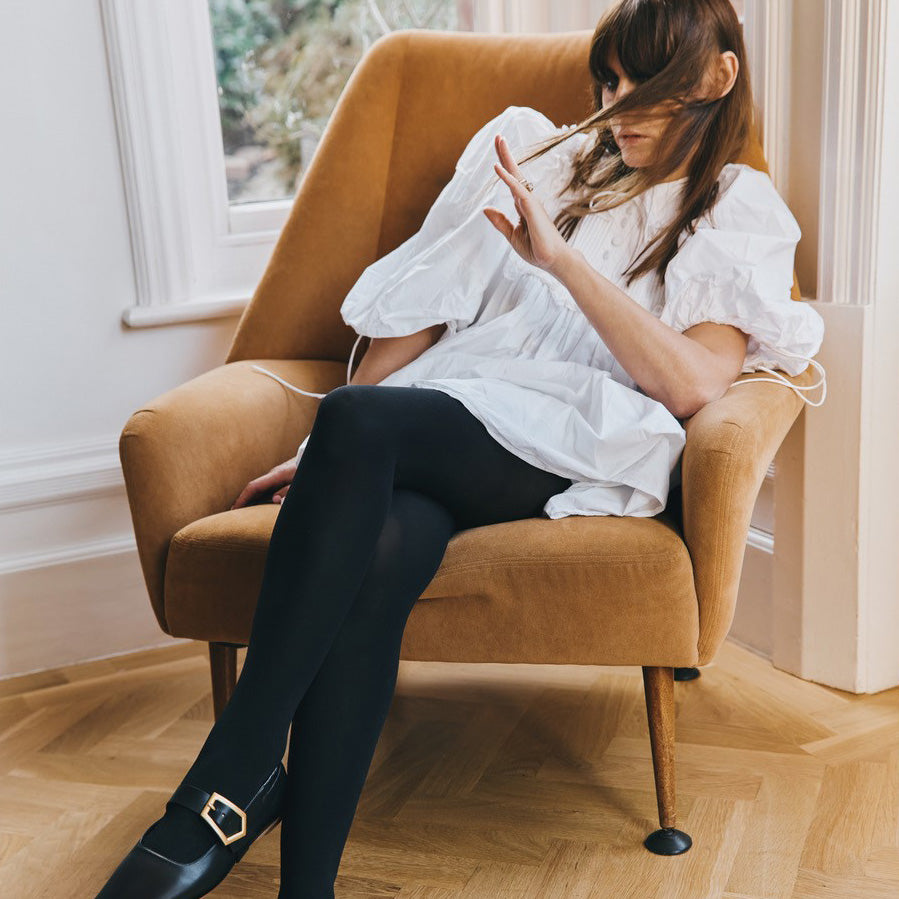 In My Shoes: Rachel Bakewell
Rachel Bakewell is a Fashion Stylist, Art Director, Creative Consultant and Fashion Editor of Lula Magazine. During a career spanning 15 years, the effortlessly stylish mother-of-two has worked with the industry's top photographers on features across several publications, from Violet Book, British Vogue and Sunday Times Style. She has worked on advertising campaigns for a number of fashion brands, and she dresses poet Greta Bellamacina and artist Faye Wei Wei, among other globally renowned actors and singers. Her ephemeral and romantic aesthetic is instantly recognisable, not forgetting glimpses of her signature love of bows. Follow @rachelbakewell
How do you start your day?
I always start my day with a coffee, my favourite time of day. I have breakfast with my two daughters and photographer husband if we are lucky enough to have time before working - and then I like to make a list of things I need to do that day - I love ticking off things I have done .. something extremely satisfying about it! With my job and also being a mother, so much swims around your head so lists are just the saviour!
What is your fashion philosophy?
I think it's important to remember that you are so unique, and clothes are there to accessorise you and to be a reflection of your personality. I believe less is more and being raised by a French mother, I am truly a fan of effortlessly French chicness.
Can you share a styling trick with us?
Go up half a size or a size in shoes to elongate the leg. If in doubt, wear white - it is the colour of chic and elegance. All-white outfits are pretty daring and yet extremely effortless. White brightens tired features and gives an innocent yet bold aesthetic.
What inspires you?
I am inspired by art, by designers, by travelling. By learning and seeing new!!! Also archive photoshoots and old films have the best styling references.
How do you unwind?
I unwind with really hot baths, lots of Susanne Kaufman bath oil and meditation music... Also yoga is an amazing way of releasing tension for me. Seaside walks and movies with a glass of wine and blanket also rank high on my list for ultimate relaxation.
If you could visit anywhere in the world tomorrow, where would it be?
Tahiti because it just looks like heaven on earth. I am also dreaming of Sicily this year.
Can you tell us something you discovered recently?
I've discovered how important it is to look after your health and mind. I am making much more effort to eat well, to nourish myself and make time for myself to feel positively charged - I feel it is so important to be kind to yourself in this busy and mad world. I love stylist Esperanza de la Fuente's new magazine 'Wholetalk'. I am also obsessed with face creams – Augustinius Bader's rich cream is heavenly and got me through January this year!
What is the best part of your job?
There are so many things - getting to meet new people; to travel and never being bored in a routine. But mainly, to express myself through my creativity - Editorials can be an amazing outlet for this.
Which shoes do you love this season?
I adore the Mary Jane square toe shoes! I love a square toe, it's such an effortless and stylish detail in an outfit and the square toe always flatters the leg.
Shop Rachel's Style
8 February 2023
---