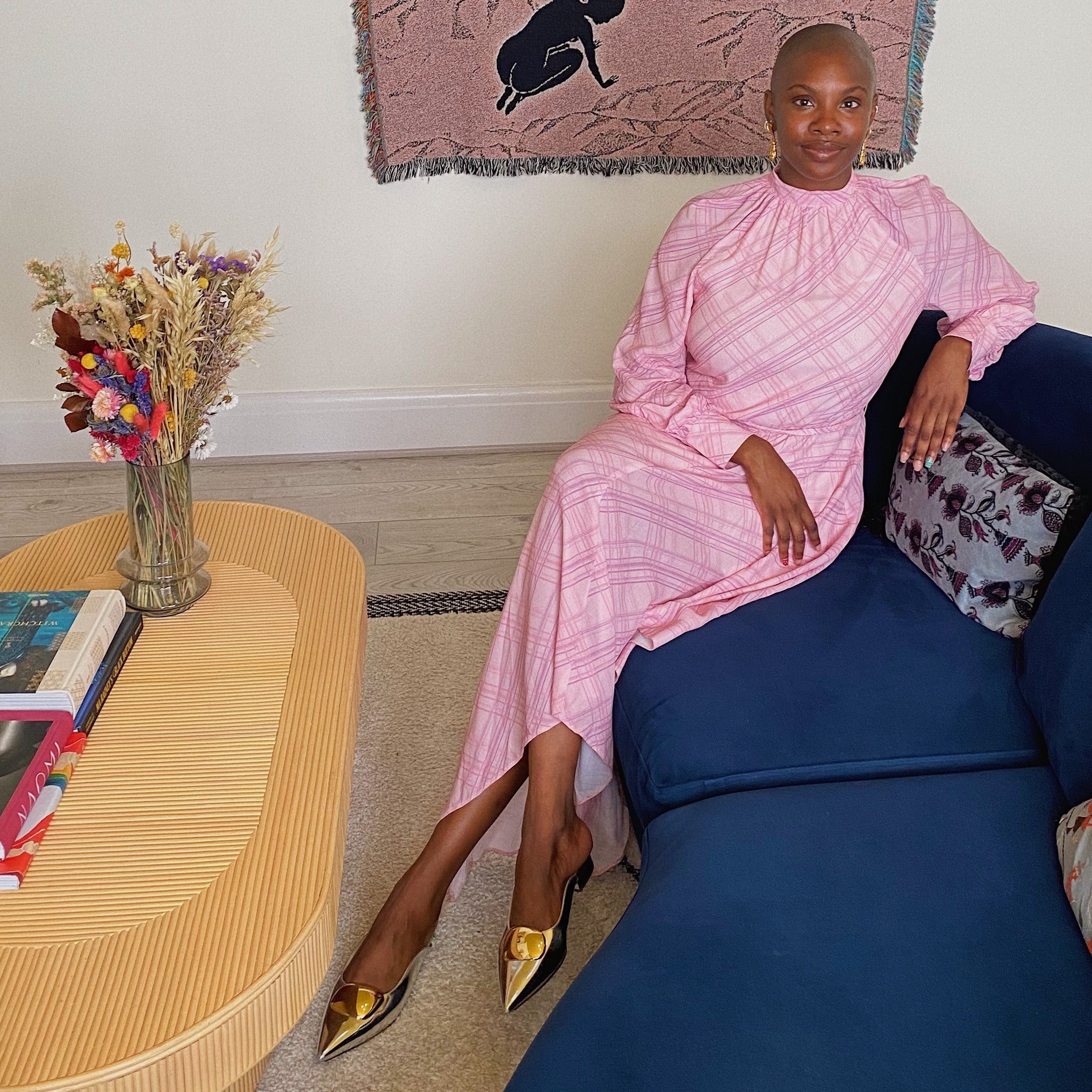 In My Shoes: Yomi Adegoke
Yomi Adegoke is a multi award-winning journalist and author. She is currently a columnist for the Guardian and British Vogue and is the former host of the Women's Fiction Prize podcast. In 2018, she co-wrote the bestselling book Slay In Your Lane and the same year was named one of the most influential people in London by the Evening Standard. She also was awarded the Groucho Maverick and Marie Clare Future Shaper awards. In 2021, she was named on the Forbes 30 under 30 list. Her debut novel The List is due out next year and can be pre-ordered now. Follow @yomi.adegoke
Tell us a little about you.
My name is Yomi Adegoke, I am a journalist and an author. I write a column for the Guardian and British Vogue. In 2018 I co-wrote a book called Slay In Your Lane with my best friend Elizabeth Uviebinené, which is a guide to life aimed at Black British women. I am also currently in the process of writing my first solo book, which is also my first novel, which looks at the real-life ramifications that the online world can have.
How do you start your day?
I tend to start my day by checking my emails, essentially emails that I ignored from the day before, or on Mondays from over the weekend. I then ask my Google Hub what today's news is and get a quick update of what's happening in the world, and if I have time after all of that I'll have some breakfast and do some exercise.
What is your fashion philosophy?
My fashion philosophy is that I don't believe in trends - or rather I don't shop to trends.  Every so often I'll come across an article saying this is the fashion, or this thing has fallen out of fashion, and it doesn't apply to me. If I like something, I like it and I wear it regardless of what the season is, and regardless of what the current trend is. I tend to shop for staple pieces and have lots of items of clothing that I've worn repeatedly in different ways over the years.
Can you share your top tip?
I'd say my top tip, that applies to fashion and life generally, would be authenticity is everything. I feel that, as corny as it can sound, generally just be yourself and approach things as authentically as possible – it's really difficult to lose when you do that.  I think a big part of my career has relied on me doing things that weren't necessarily popular at the time or being done – writing about things that weren't being spoken about was a big part of my early career and I saw that doing so set me apart. It's something I recommend - being authentic in whatever you do.
What inspires you?
I'm really quite inspired by Ru Paul. I think Ru Paul is legendary, again because he has been consistent in what matters to him in terms of drag, the drag scene, and it's something he pioneered and was present within before it went mainstream. He continues to be true to his ethos, what that community means to him whilst bringing the conversation around drag and drag culture further into the mainstream. I remember watching an interview with him in the 90s and he had a catchphrase 'everybody say love' and that's something that has carried on. I love that kind of consistency in what matters to him and what he's been trying to say, and I think it's a big part of why he has been so successful.
How do you unwind?
I unwind by watching terrible Lifetime films. I feel like I don't need to engage my brain at all to watch and enjoy them and I watch them completely non-ironically.  I love really badly acted and badly scripted thrillers in particular.
If you could visit anywhere in the world tomorrow, where would it be?
I would probably go back to Cuba.  It really is one of my favourite places in the world.  I went in around 2016 and I've been dying to go back ever since, I just haven't had the time. The culture, the people - everything about it was incredible (except the food, but the fact that the food wasn't particularly nice and I still had an amazing time says a lot about how great it was.)
Can you tell us something you discovered recently?
I discovered that I actually quite like writing fiction! Coming from a journalistic background I have written non-fiction prior to The List, but it's been incredible to learn a new skill and to realize that it's something I enjoy doing because fiction was something that I was massively intimidated to try. It's been amazing building a world and finding myself immersed in it.  I'm really excited about everybody being able to read it.
What is the best part of your job?
I'd say the best part of my job is flexibility as well as the ability to meet lots of different people. I really like that I'm able to set my own schedule because I am somebody who sleeps a great deal, so it's nice to be able to lie in without anybody telling me I can't do that. The way I work is quite ad hoc and sporadic and I think I'm much better suited to a freelance lifestyle and I'm very grateful for that. I'm also able to meet incredible people, interview amazing people and hear brilliant stories, as I write a lot of profiles and interviews.
Which shoes do you love this season?
I am loving, very much so, the Jacopo in silver mirror – I love that they go with anything. I also love the gold Magog Clog shoes – they are pretty standout!
2 August 2022
---