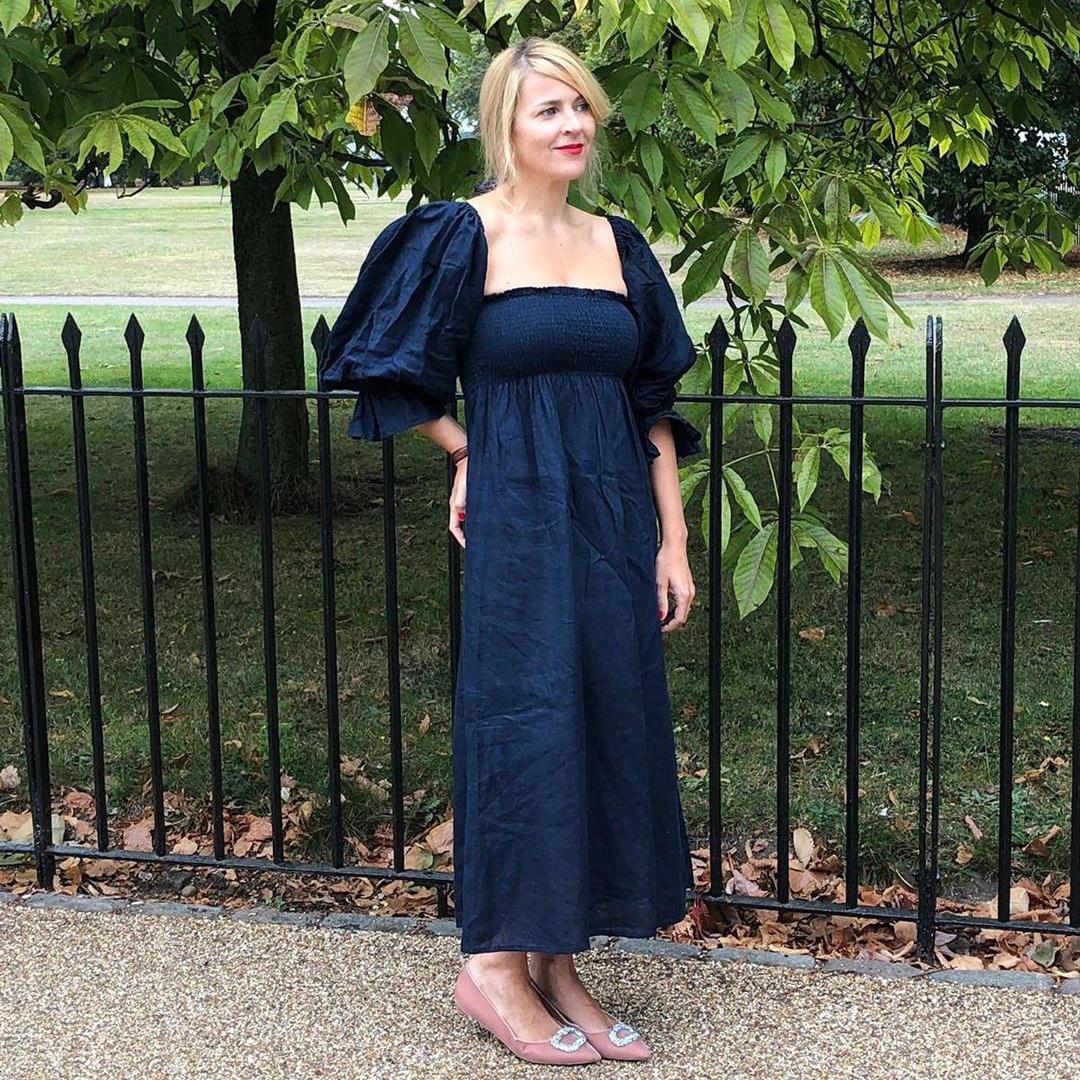 The Isolation Interviews: Sarah Tomczak
Red Magazine's Editor Sarah Tomczak has been working as a journalist for over 20 years. Effortlessly stylish, Sarah's career has seen her rise from a magazine Editorial Assistant to an Editor, including five years spent in publishing in New York. At Red, Sarah has overseen magazine covers featuring some of the most exciting women in the public eye, from Penelope Cruz to Heidi Klum and Renée Zellweger. A mother to two girls, Sarah and her family recently relocated from London to the seaside. Follow @Sarah.Tomczak.
Where are you writing this?
Sitting on my sofa, at 10.30pm after a long day of home schooling and editing the magazine remotely. I find one of the challenges of work from home is never quite switching off. It's harder to set boundaries when your home is your workplace – and the school - too.
What are you reading?
I've just finished and adored 'An American Marriage' by Tayari Jones and 'Olive Again' by Elizabeth Strout. Next on my bedside table is Sally Rooney's 'Conversations With Friends' because I missed it first time round and have heard such great things about it.
What are you watching?
I devoured 'Normal People' and 'Unorthodox' and am now watching the final season of 'Homeland' with my husband. He tried to get me into 'Ozark', which he loves, but I found it too intense. We're debating starting 'Mad Men' from Season 1 again, just because we both love it so much.
What are you eating/cooking/baking?
A lot! It's actually been one of the great joys of 'staying home' for me, as I love to cook but rarely had the chance to do so. We all have big sharing platters at lunchtime with any variation of parma ham, salami, olives, manchego, lots of veggies and fresh sourdough from the local boulangerie. We barbeque a lot in the evening, or I make big salads with griddled salmon or aubergines. I bake a lot too, which is dangerous because I find myself whipping up a quick batch of madeleines, mid-afternoon, then eating most of them myself!
If you could visit any art gallery or museum in the world right now, where would it be?
This doesn't really fall into either category, but my husband is a photographer and we have been discussing 360 photography and the possibility of creating virtual tours for smaller gallery spaces and museums. We looked at the virtual tour for the Sistine Chapel, as an example, and it was completely mesmerising. After poring over it for an hour yesterday, I'd love to now go and see it in person!
Have you picked up any hobbies in isolation?
Not hobbies exactly, but we have just moved into a new house on the Kent coast, so isolation has given us a chance to decorate. It's been a huge satisfaction to do it ourselves (it's also good to have the excuse to shut myself away in a room with a podcast for a few hours!). I've also started swimming in the sea, which as you can imagine, is freezing cold and utterly exhilarating in equal measures.
Any lockdown discoveries?
That I feel calmer, healthier and more balanced now. I love my job madly, and my frenetic London life, but I commute for over three hours a day too and I didn't realise the toll it was taking on me, physically and emotionally, until it all stopped. Now I need to figure out how to return to my 'normal' life, whilst retaining the version of myself I have become outside of it.
Any lockdown saviours?
The wonderful women in my new neighbourhood. My family only moved to Ramsgate in December, so they are new friends. Since lockdown, we have started a Whats App 'book swap' group. We started leaving books on each other's doorsteps, and then moved on to hand-me-down kids' clothes, paint sample pots, sourdough starters and the occasional, gratefully-received, bottle of wine. Oh, and my completely amazing mum, who does thrice-weekly virtual lessons with my seven year-old daughter Coco to help out with the home schooling.
What is the first thing you will do when out of lockdown?
Invite my brother and his family to stay. My two-year-old niece, Anoushka, is everyone's favourite little person and we can't wait for her to come down to the seaside. I am lucky that my parents both live nearby in Kent, but my brother is in West London, which feels terribly far away at the moment.
What's on your wishlist?
I think the Willows are just fabulous wear-anywhere-and-forever shoes. Talking of timeless, the black Sabine slingbacks are high on my wishlist too, and shouldn't every woman have a pair of strappy gold Elise heels in her closet?
SHOP SARAH'S STYLE
18 May 2020
---