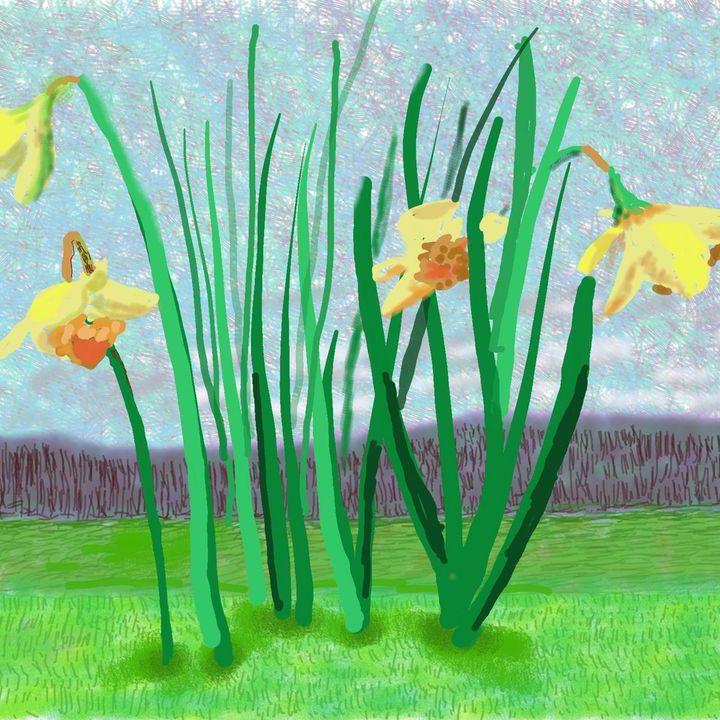 Like so many others during this surreal time, we were hugely inspired and comforted by David Hockney's artwork Do remember they can't cancel the spring which was released last week. Hockney himself is currently in complete lockdown in Normandy, where he has been since his last exhibition opening. According to The Art Newspaper, Hockney is "still producing beautiful things, which he wanted to share with us as something positive."
Many members of our community will know that all Rupert Sanderson shoes are named after daffodils. This came about as Rupert discovered a little book at a stall around the same time as launching the business. The Classified List and International Register of Daffodil Names is an anthology updated regularly over the years by the Royal Horticultural Society. The green of this little book is the same shade as our shoe boxes and packaging. The anthology has since moved online.
To celebrate the humble daffodil, we have gathered some beautiful works of art which feature this joyful Spring flower.

Ambrosius Bosschaert the Elder, Flowers in a glass vase, 1614, Credit: The National Gallery

Arthur Baker-Clack, Daffodils, c.1920, Credit: ArtUK

Beatrix Potter, drawing, c.1880, Credit: V&A Museum

David Hockney, Do remember they can't cancel the spring, 2020, Credit: The Art Newspaper

Ellsworth Kelly, Daffodil, 1980, Credit: Pinterest

Jacques Le Moyne de Morgues, Daffodils and a Red Admiral Butterfly, c.1575, Credit: V&A Museum

John Henry Dearle, Daffodil Wallpaper, c.1955, Credit: V&A Museum

John William Waterhouse, Echo and Narcissus, 1903, Credit: The Walker Art Gallery

Monet, Banks of the Seine, Vétheuil, 1880, Credit: The National Gallery of Art

Georgia O'Keeffe, Yellow Jonquils #3 1936, Credit: Pinterest
27 March 2020
---