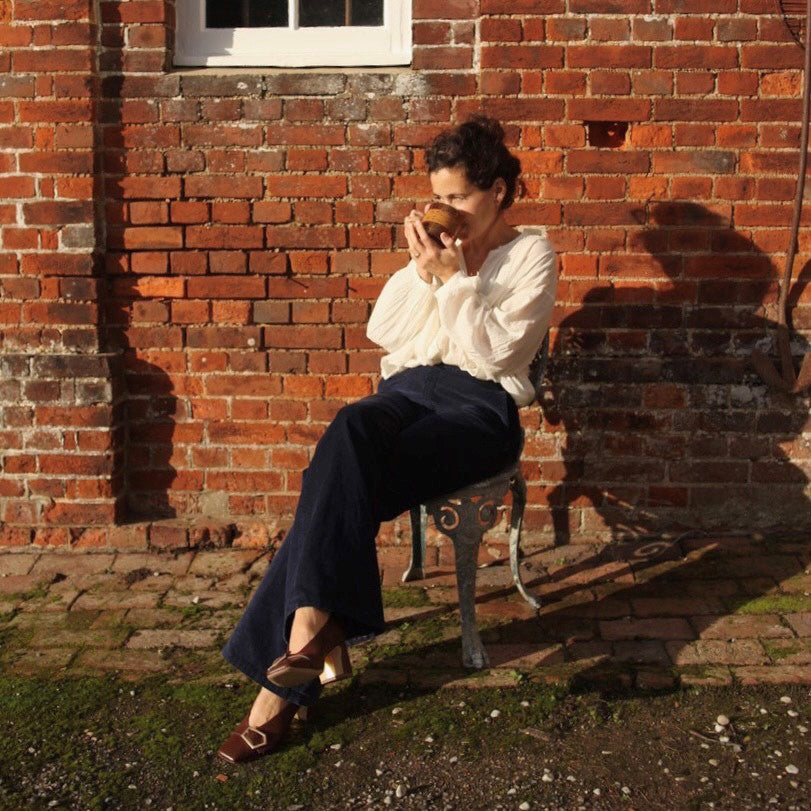 In My Shoes: Caroline Kent
Caroline Kent is the founder of stationery and illustration studio Scribble & Daub. Starting her career as a curator of contemporary art, Scribble & Daub launched shortly after moving to her East Sussex cottage, where she lives with her husband and three children. The meadow garden outside her studio regularly inspires her designs for her business, which first came about when she created a card for a friend's wedding, quickly leading to further requests. Her designs are now stocked worldwide. Most recently, she has launched her first ever collection of Christmas decorations. Follow @scribbleanddaub
Tell us a little about you.
After studying Social Anthropology at Edinburgh (qualifies you for everything and nothing!) I spent the best part of a decade working in the contemporary art world at Ingleby Gallery, before travelling for ten months in North and South America on a curatorial research bursary. On coming home, we moved to a cottage in East Sussex and I established a fine stationery and illustration studio, Scribble & Daub, which grew gradually around the having of three young children. Our products are now found in some of the finest stores worldwide, from Liberty and The Conran Shop to The Stores and 10 Corso Como, and I have created illustrations for clients including Vogue, Dior, Mr & Mrs Smith, Le Bon Marche, Matches Fashion, and Rupert Sanderson.
How do you start your day?
Reluctantly! Days start at an always too early for me 7am, with the school run rigmarole. After that, I'll equally reluctantly try to do some exercise, reward myself with a coffee, and then head to the studio.
What is your fashion philosophy?
I'm a child of the 90s who lives in the 70s; I love corduroy, sheepskin, all shades of brown, gold lurex, high waisted jeans, velvet, and cardigans. That said, I could lose days drawing extravagant couture gowns and have been obsessed with clothes since as long as I can remember. I am an avid people watcher, and seeing someone with an incredible personal style is such a pleasure.
Can you share your top tip?
It's hardly original, nor fashionable in these maximalist days, but I live by the maxim less is more. This goes for drawing just as much as for dressing! I've always liked Coco Chanel's quote "Before you leave the house, look in the mirror and take at least one thing off". The tricky thing with drawing is, you have to recognise when you're about to add that last, unnecessary thing, and hold back. I don't always get it right, but the more you do it, the better you get at knowing when to stop.
Who inspires you?
People who dedicate their lives to fight for human rights, and the environment. We live in deeply troubling times and nothing really matters much if those fundamental things aren't fiercely protected.
How do you unwind?
Taking care of three young children whilst running Scribble & Daub and managing a renovation project - as I am currently doing - doesn't allow for a huge amount of down time…! I love walking in the woods and fields on our doorstep when I can, and reading in bed every night before I go to sleep; I'm currently half way through Deborah Levy's excellent Hot Milk, and am slowly working through everything of hers that I can get my hands on.
If you could visit anywhere in the world tomorrow, where would it be?
Okinawa. We shot our new collection of Christmas decorations last week with my friend and photographer Kim Lightbody, who travelled there 12 years ago. It's her favourite place, and having heard all about it, I hope one day it might become mine too.
Can you tell us something you discovered recently?
The work of artist Caroline Zumerly, who makes these brilliant, tightly cropped paintings from the high society pages of '90s tabloids using nail polish - genius! They are incredibly seductive things, playing with ideas of aspiration and perfection, luxury and excess.
What is the best part of your job?
Scribbling. My seven-year-old self would never have believed that I could have been so lucky as to get to draw for a living.
Which shoes do you love this season?
It has to be these black and gold lurex Safara heels to add some Studio 54 style. Like all the best things in life, they are as beautiful as they are practical, the perfect height, elevating but comfortable.
Photographer: Calypso Cragg
Shop Caroline's Style
22 November 2022
---