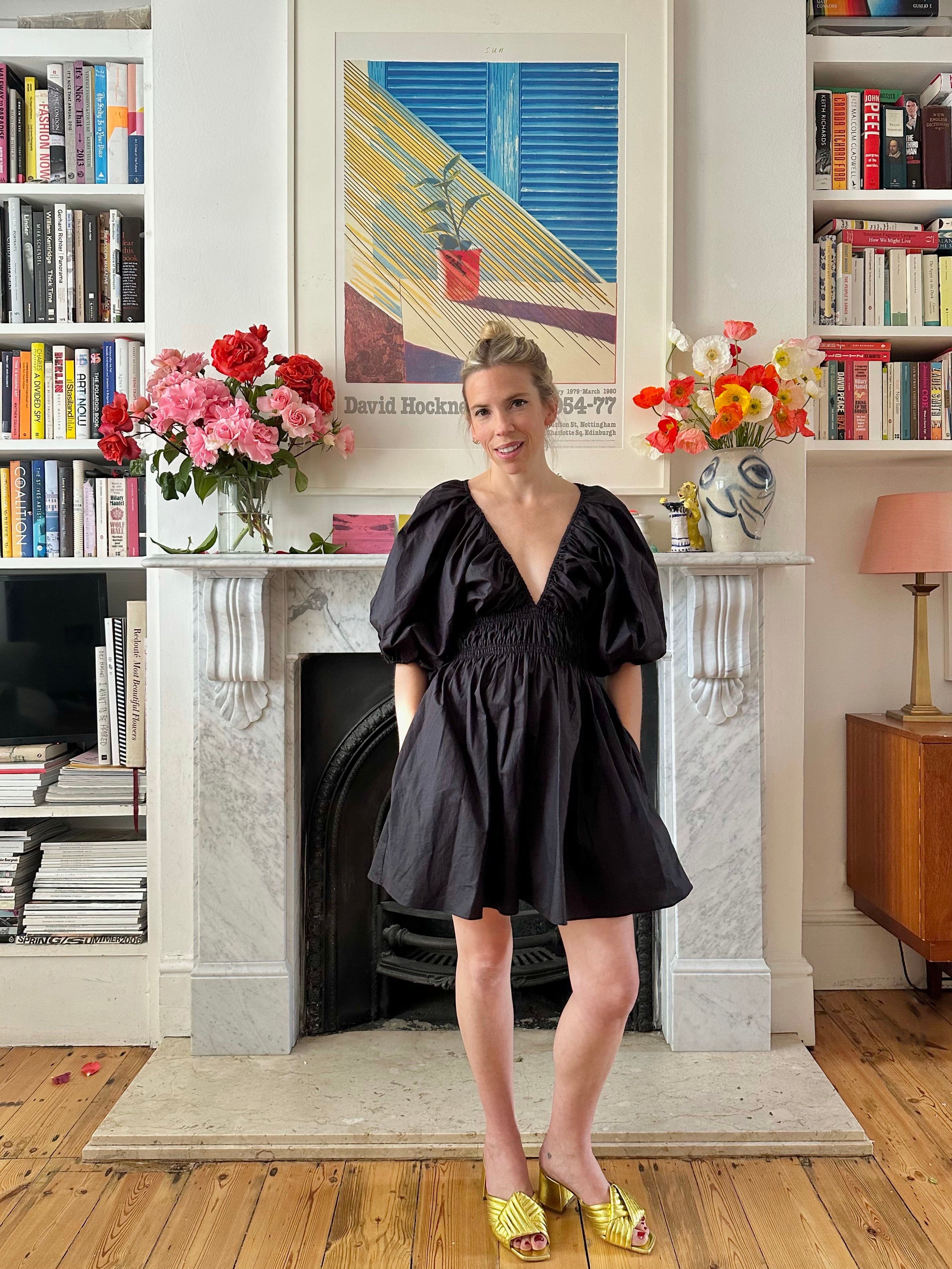 In My Shoes: Cressida Jamieson
Cressida Jamieson is an expert embroiderer and designer. The effortlessly stylish mother-of-two is known for her botanic-inspired embroideries, as well as a collection of unique motifs. Her work has been featured in the New York Times, the Financial Times, Sunday Times Style, and on the cover of ES Magazine and Grazia. She has also collaborated with a variety of brands including Liberty, Raey, Yolke and Rixo. Her incredibly classic and romantic style is immediately recognisable. Not forgetting her signature florals! Follow @cressidajamieson
Tell us a little about you.
I'm an embroiderer and designer, based in London.
How do you start your day?
I'm usually woken by my two young children before 6 am, about an hour and a half earlier than I'd ideally like! Once they have gone to school and nursery, I'll sit at my desk with a strong cup of tea and go through emails, making a schedule for the embroidery work I need to do that day. I like to do any designing in the morning; any drawings, mood boards and research, and then I will start embroidering late morning or the afternoon.
What is your fashion philosophy?
If you wear something that you feel good in, you will look amazing in it.
Can you share a styling trick with us?
OR can you share your top tip (fashion, life, anything)?
I'm only 5 feet tall, so I've always got safety pins, magic web and a needle and thread ready to do a quick shortening job! If there's something in your wardrobe you don't like anymore, before selling or giving it away, store it away for 6 months and revisit it. Distance can make the heart grow fonder! Or I might have bought something new in the meantime which when worn with the older item could give it a new lease of life.
What / who inspires you?
I'm inspired by such a varying list of things and people. I'm drawn to anything colourful and will take a quick snap of something I might see in passing. A bit of graffiti on the street might get me thinking about colours or patterns, a kitchen tile, or a flower in a front garden. There are two photographers I love called Peter Schlesinger and Joel Meyerowitz – I often go back to their books for their use of colour, the fashion and the prints worn by their subjects. I've always been a bit obsessed with Andy Warhol's early drawings from his advertising days in the 50s, and my friend Luke Stephenson's photography of the ordinary made extraordinary. At the same time, I love looking at details of ornate paintings from the 17th century – flowers, fruit, pearls, shells and the satins of dresses. So, all very varied!

How do you unwind?
I have a very small garden, but in the early summer, it comes to life and brings me so much joy. Once my children are in bed, I'll water the garden and sit in the garden noticing what has grown/bloomed since the day before. It's my form of mindfulness!

If you could visit anywhere in the world tomorrow, where would it be?
Siena, Italy. I used to live within the city walls, and it holds such a special place in my heart.
Can you tell us something you discovered recently?
A little gem of a restaurant called Darling's, set within the garden of the Vestry House Museum in Walthamstow, where I live. It's a very simple menu, but the most delicious pasta and antipasti, you eat sat at tables amongst billowing meadow flowers and butterflies!
What is the best part of your job?
Every week, almost day, is different. I get to work on so many new and exciting commissions, as well as meeting and working with people who continue to inspire me. I feel very lucky.
Which (Rupert Sanderson) shoes do you love this season?
I love the Apollos! I'm always drawn to gold accessories and jewelry (my name coincidentally means gold in Ancient Greek) so they caught my eye immediately. I know they will be perfect both in the summer or worn with a sock in the winter.


Shop Cressida's Style
27 June 2023
---