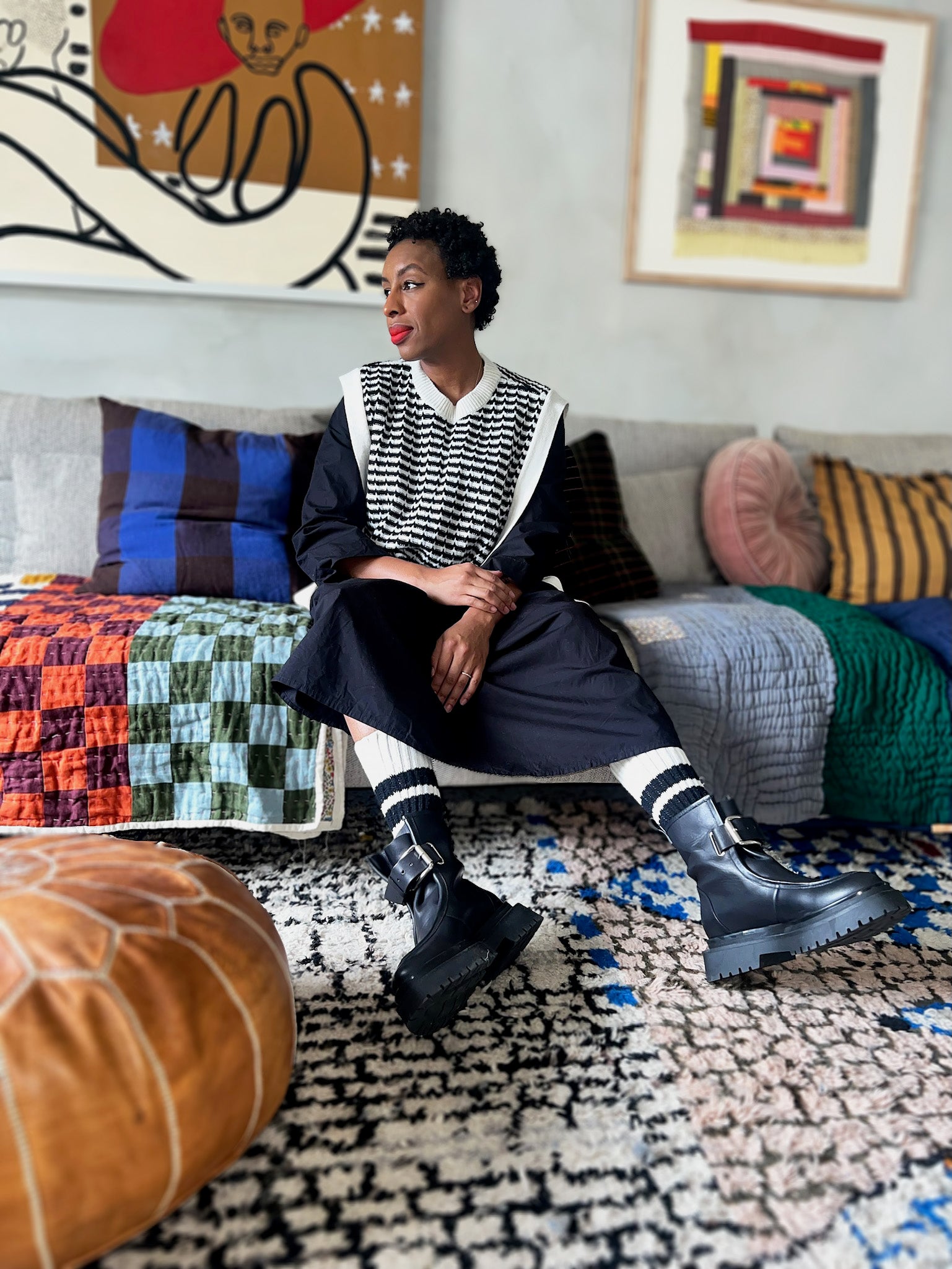 In My Shoes: Ferren Gipson
Ferren Gipson is an art historian, artist and award-winning author. Hailing from the US and based in London, she is an advocate for art education and has taught at the Courtauld Institute of Art, Sotheby's Institute of Art and is currently a doctoral researcher at SOAS, University of London. She specialises in modern art and the crossover between pop culture and art. She is the author of two books, has hosted the podcast Art Matters and delivered a TEDx Talk. Follow @ferrengipson.
Tell us a little about you.
I'm an art historian, writer, and artist. I'm from the US and have been living in London for 12 years now—the time flies! In my work, I'm passionate about getting as many people as possible interested in art. At home, I like hanging out with my husband, son, and our goofy golden-doodle.
How do you start your day?
I start by having a black coffee while I check email and social media on my phone to see if anything interesting happened overnight. About once or twice a month, I remember to meditate for about 15 minutes before starting my day—I wish I was better about doing that daily.
What is your fashion philosophy?
I want to look as chic and composed as possible with the least amount of effort and the most amount of comfort possible. My goal is to look good while feeling like I'm wrapped in a blanket.
Can you share a styling trick with us?
In my experience, bright lipstick can make almost any outfit look better.
What inspires you?
I feel like I'm constantly taking in images, so inspiration can come from a lot of places—art, social media, classic design, etc. Recently, I'm trying to do a better job of going with my gut and following what excites me. In design (picking clothes or decorating my house, for example), the challenge for me is to distinguish when I like something on someone else, but it's not necessarily the right fit for my personal style.
How do you unwind?
Good food. I also love to read and watch junk. A lot of my day is spent wading through dense reading or writing, so to relax, I like to consume light-hearted content.
If you could visit anywhere in the world tomorrow, where would it be?
Probably China. I went once a long time ago and I really loved it. I hope to go back some day.
Can you tell us something you discovered recently?
I recently came across a concept called the Wrong Shoe Theory that I love and have been unknowingly doing for a long time. The idea is to wear an unexpected shoe with your outfit to make it a little more interesting. I usually do this by wearing heavy boots or sneakers with dresses, but you can also do it by wearing a sexy heel with jeans or something like that.
What is the best part of your job?
I love that I get to do so many different things. I write books and newspaper articles, teach, give talks, present audio and video—it's so fun! I often don't know what's coming next and that's exciting.
Which shoes do you love this season?
The Apex heels are absolutely stunning. I tend to only wear flats, but those are tempting!
Shop Ferren's Style
29 September 2023
---