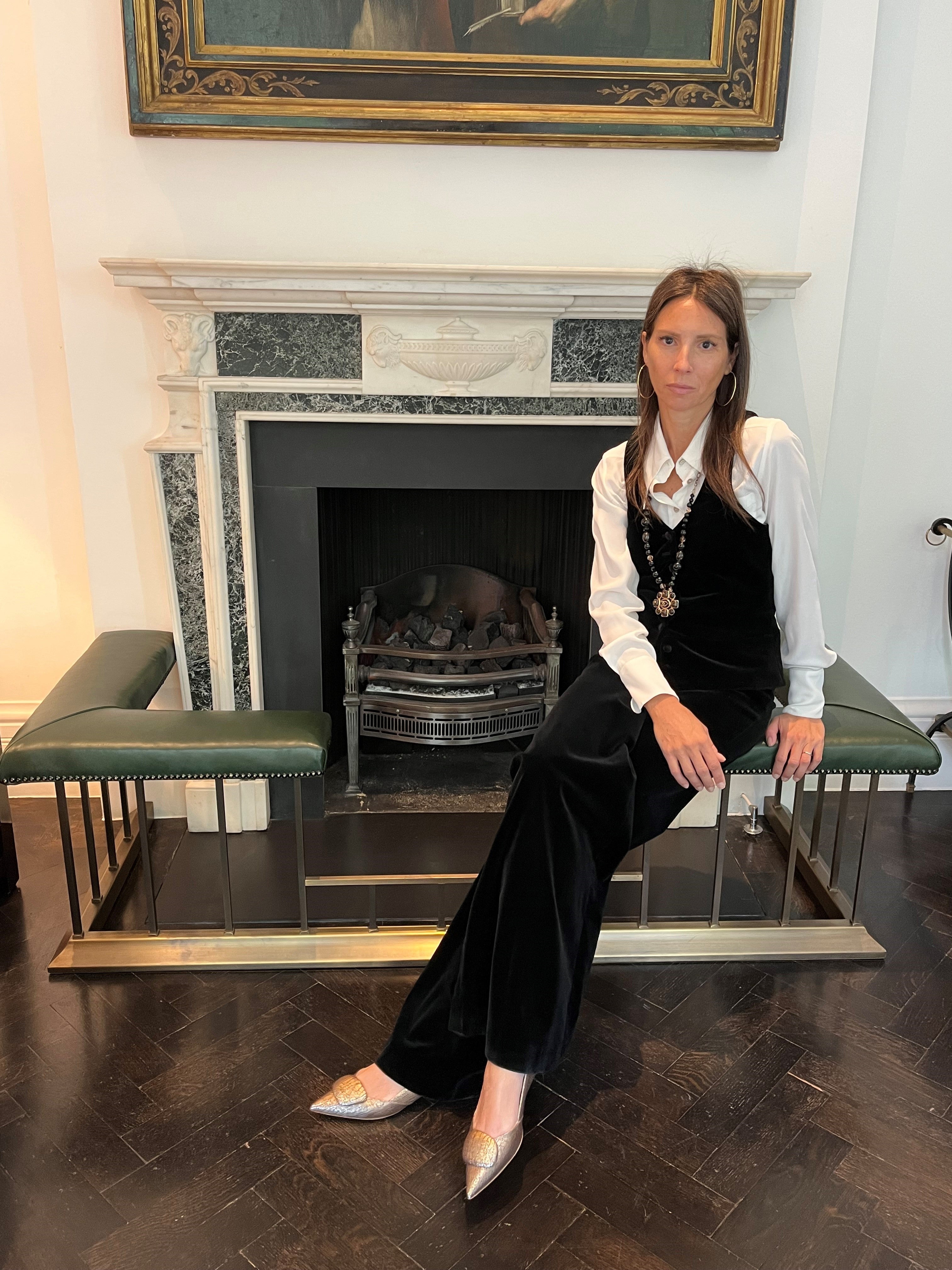 Jane Lewis is the Founder and Creative Director of Jane Atelier. A stylish mother of three, she studied art and art history before moving across to design with no formal training. As assistant to Elspeth Gibson, she learnt on-the-go while working on evening wear, soon becoming inspired to create her own brand focusing on a working wardrobe. Known for sleek and stylish silhouettes, Goat was founded in 2001 and rebranded as Jane Atelier in 2021. Starting off with a luxury cashmere range, it quickly developed into a full ready-to-wear collection and has been worn by the likes of Gwyneth Paltrow and the Princess of Wales. Follow @janelewisatelier.
Tell us a little about you.
I'm the founder and creative director of Jane Atelier (formerly Goat). I have had no formal training and as such learnt everything in real time from the experts and people in the industry I've been lucky enough to work with. I studied art and art history and can draw – so I have always designed my collections. It means the handwriting (the brand identity) has remained consistent.
How do you start your day?
Too early and with a very strong black coffee. I'm a very reluctant exerciser but disciplined, so like to get it out of the way before the house gets busy and the school run begins.
What is your fashion philosophy?
I am a firm believer in style over fashion. Fashion is cyclical by nature whilst style evolves and matures. As such, investment pieces and the intelligent and mindful curation of individual wardrobes on every level is so important. Also, mix and match what you have and keep it simple. Wear the old with the few new pieces you select per season to breathe new life into your wardrobe…Less is more.
Can you share a styling trick with us?
1. Trousers and heels – ALWAYS make sure your hem covers your whole heel and is level at the front. This will elongate your legs seamlessly.
2. Make sure your shoes are comfortable! You can be wearing the most elegant outfit but if you can't walk properly the illusion is ruined.
3. Buy the best pieces you can - you will thank yourself in the future.
What inspires you?
I like to look to the past. I love the 60's and 70's era in terms of clothes and styling. Silhouettes were streamlined and simple and people took care of their pieces. I adore the paired back aesthetic - it really resonates with me.
How do you unwind?
I've always read a lot. Being absorbed in a really good book is a total escape. I also unwind by wandering around in the countryside collecting cuttings to take home with me – including massive tree branches which I love to bring into the house - they look so dramatic. I'm always happy bringing a bit of the outside inside.
If you could visit anywhere in the world tomorrow, where would it be?
The Galapagos. I've been a long-time nature programme obsessive – it would be the most fascinating trip.
Can you tell us something you discovered recently?
The Vintage Vase Company sources beautiful individual pieces – the owner has such a lovely eye. Also in the home, Greenwolf Lighting which makes the most fantastic Murano battery charged table lights. So chic.
What is the best part of your job?
Creating. Despite the pressure and stress that comes with the job, ultimately I love bringing designs to life. I love my team and we laugh a lot in the studio. I consider myself very lucky to be surrounded by such amazing people.
Which shoes do you love this season?
These metallic flats are perfection - the most beautiful proportions and covered in the chicest fabric. They afford effortless style, versatility and longevity and they look divine worn with my velvet suit, but would be great worn with jeans also. They are the perfect way to elevate a low-key outfit.
Shop Jane's Style
17 October 2023
---