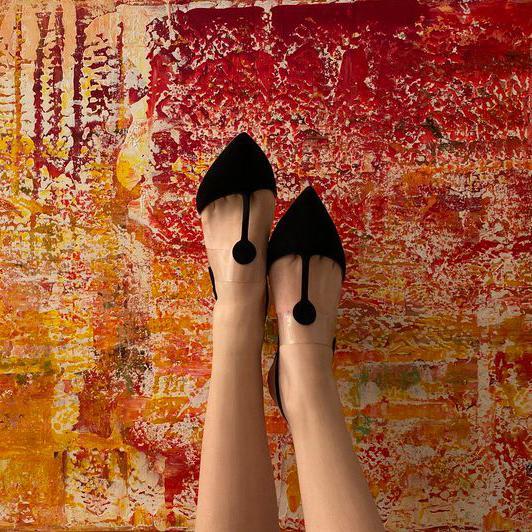 'Trompe l'oeil', a French term translated as 'trick of the eye', is a technique used very often in the world of art and architecture. This use of optical illusions has been used by some of the most famous artists and designers in the world, from Jan van Eyck to Bramante. The technique uses realistic imagery or objects to depict something that actually isn't there, or in our case hides something that is present at first glance.
Sitting pretty on a mid heel 80mm skinny heel, Kyoto is a new silhouette for SS20. Calling on trompe l'oeil in the design, this shoe is one of the season's most enchanting. A classic pointed toe extends into a stylish T-Bar which seemingly disappears after extending into a circle. Floating circles reappear at the ankles before forming into a slingback. For this shoe, Rupert wanted to play on an optical illusion. What we don't see straight away is a band of clear PVC which supports the foot while keeping the optical illusion alive.
This clever shoe can steal the show at the same time as blending in with any outfit. You can wear with almost any item of clothing as the simplicity will not clash. The silhouette is classic and contemporary all at once, meaning the shoes will slot into your wardrobe and can be worn for years. Quite the trick!
13 February 2020
---