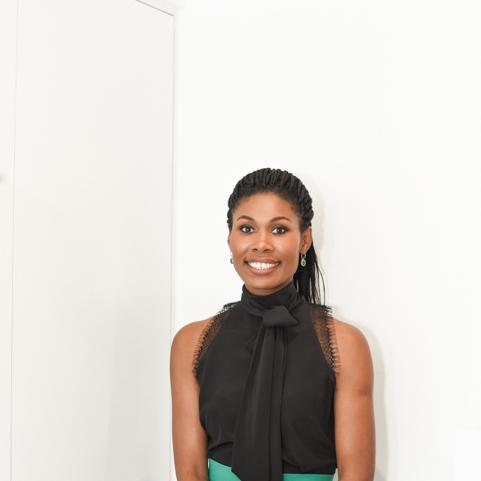 The Isolation Interviews: Sherrille Riley
Entrepreneur Sherrille Riley is a leading brow expert based in London. Jamaican-born, Sherrille launched her iconic boutique, Nails and Brows Mayfair, in 2014 after two decades of hands-on work as a beautician in London's luxury beauty salons. Later in 2017, Sherrille founded Beauty Edit Mayfair, a collection of brow styling solutions. Her instinct for achieving defined brows has won her plaudits from beauty and fashion editors, as well as a loyal Mayfair clientele. Her work has been featured in Vogue, Harper's Bazaar, The Times and Net-A-Porter, among others. Follow @SherrilleRiley and @NailsAndBrowsMayfair.
Where are you writing this?
I'm at home, I live in Earls Court. I've got a small study room, so I often work from here as I'm easily distracted. I struggle to concentrate to get things done whenever I work from our boutique.
What are you reading?
I've bought so many books over the years and only now getting to read at weekends. I'm halfway through a book called Natives by Akala. I'm a fan of Akala's intellective mind and bought this book last year after seeing him at the South Bank Centre.
What are you watching?
Documentaries, I'm pretty inquisitive so I love documentaries about world history and wildlife. I also love comedy and I'm catching up on Dave Chapelle's shows on Netflix.
What are you eating?
A lot of salmon, seabass and langoustines. I stopped eating meat last year and I've turned to fish and veg for almost every meal now. I eat a proper salad for lunch with boiled eggs, salmon, pine nuts and just about anything that I can find to make it tasty. I'm loving it.
If you could visit any art gallery or museum in the world right now, where would it be?
I've visited most of the major museums in Rome, Milan, Paris and London and next on my list is The National Museum of African American History and Culture.
Have you picked up any hobbies in isolation?
Pilates. I do a Virtual Pilates session at 9am, five days a week with my husband and our Pilates instructors in Dubai. I love it, and the results; these sessions have transformed body completely.
Any lockdown discoveries?
I've come to realise just how much I enjoy my own company. I'm normally always busy, out and about, travelling and meeting people, and lockdown has left me feeling grounded.
Any lockdown saviours?
Definitely Pilates and mini blinis from Whole Foods.
What is the first thing you will do when out of lockdown?
Check in for a full day of grooming, pedi, mani, waxing and everything in-between.
What's on your wishlist?
Oh, that's easy, Symphony 30, Kyoto and Marina.
29 June 2020
---